Comma Press and Tilted Axis Press: Dual Book Launch
Celebrating Dalit Feminist Voices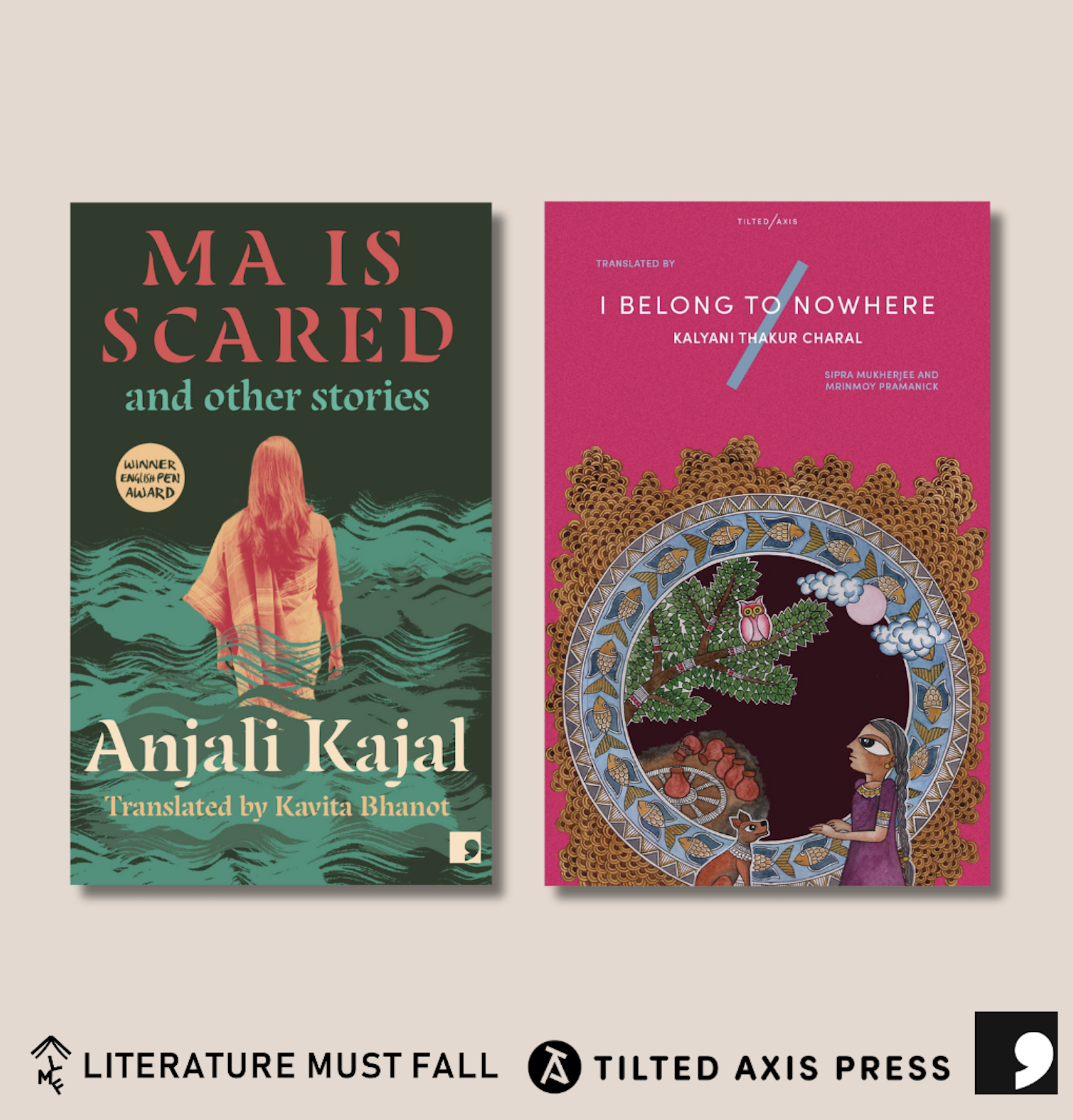 About the event
Anjali Kajal and Kalyani Thakur Charal: A Dual Launch of Seminal Dalit Feminist Literature brought to you by Comma Press and Tilted Axis Press
Join us for an intimate and celebratory joint launch of two seminal works of Dalit feminist literature during a highly anticipated Live Stream. Comma Press and Tilted Axis proudly present a dual book launch event that unites the eloquent voices of Anjali Kajal and Kalyani Thakur Charal.
We will discuss the process of translating, writing, and publishing the collections and the importance of Dalit literature today. As well as how these two exceptional works delve into the heart of hope, resistance, and the contemporary Dalit experience in India.
Event Details: Live Streamed on the Comma Press YouTube Channel, tickets available via Eventbrite.
Date: Tuesday 12th September Time: 5.00 PM (BST), 09:30 PM ( IST), 12:00 (EDT)
Location: Online, Comma Press YouTube Channel
Book here.
Host: Nikita Arora
Tickets: FREE

Featured Participants:
Anjali Kajal (Comma Author): Unveiling her debut collection "Ma is Scared And Other Stories," Anjali Kajal has been an important voice in Hindi literature for over two decades. Her stories resonate with the struggles of Dalit girls and women, and her contributions have been acknowledged by the Punjab Hindi Sahitya Academy.
Kalyani Thakur Charal (Tilted Axis Author): Witness the power of Kalyani Thakur Charal's words as she presents her collection "I Belong to Nowhere: Poems of Hope and Resistance." A prolific Dalit feminist poet, her writing in the Bengali language has sparked powerful discussions on social justice, democracy, and equality.
Kavita Bhanot (Comma Press Translator): An accomplished writer and translator, Kavita Bhanot's work includes fiction, non-fiction, and academic contributions. Her translation of Anjali Kajal's Hindi stories garnered a PEN Translates Award. She has been a

reader and mentor with The Literary Consultancy for over 15 years, and currently teaches Creative Writing at Birmingham University

Mrinmoy Pramanick (Tilted Axis Translator): As a translator and academic, Mrinmoy Pramanick's expertise lies in Dalit literature, Indian translation, and Comparative Literature. His translations bridge languages like Bengali, English, and Hindi, enriching cross-cultural understanding.
Sipra Mukherjee (Tilted Axis Translator): Sipra Mukherjee, a professor in the Department of English at West Bengal State University, is renowned for her contributions to modern literature, religion, and caste discourse. Her translations and research have earned her accolades and insights into marginalized communities
About the Partners
Comma Press are a not-for-profit publisher and development agency specialising in short fiction from the UK and beyond.
JAAG Collective is an offshoot of Literature Must Fall specifically dedicated to sustaining intergenerational and intercultural dialogue with regards to Panjabi and Pothwari-Pahari language and literature.
Literature Must Fall is a platform committed to de-mystifying and de-sacralising literature.

Tilted Axis Press are not-for-profit press on a mission to shake up contemporary international literature.