Crafting a short story collection with Gaynor Jones
Price: 120.00
Discount Price: 80.00
Those in receipt of benefits, or low-income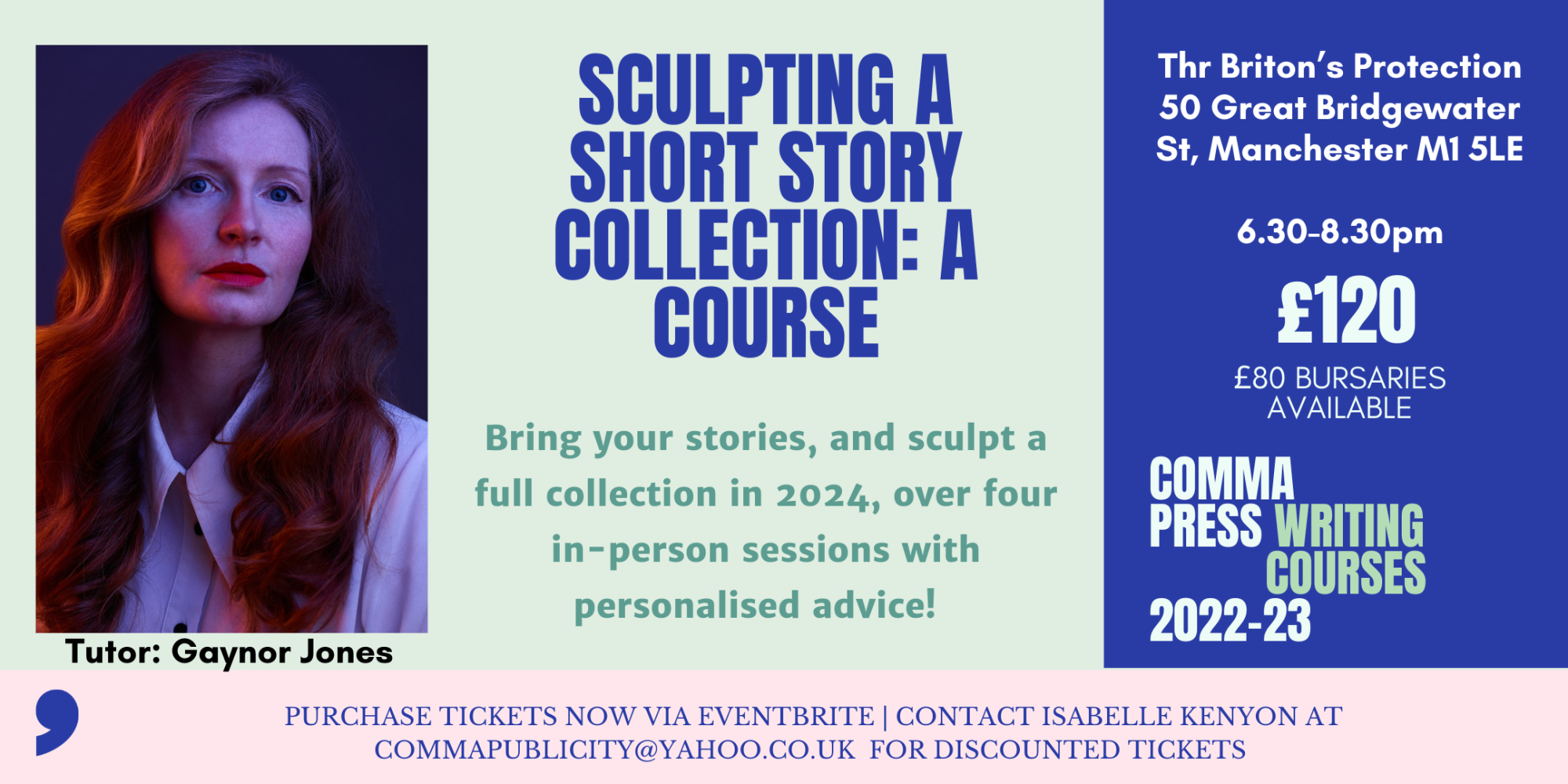 About the event
ABOUT THE COURSE:
This is a 4 session in-person short story course running from January to March 2024.
Over the course of four sessions we will discuss work you have already written, with a focus on how to edit and improve your words in a way that retains your artistic integrity and individual voice. We will consider how your short stories can become a collection and work together to identify any gaps or areas for consideration. Alongside this writing focus, you will also be given advice and insight into submitting your short stories to agents and publishers, as well as a final session with peer and tutor feedback.
By the end of the course you will have
- Learned techniques for self-editing short fiction
- Been given advice on pulling together a short story collection
- Have first-hand advice and insight from an agented short fiction writer
- Benefited from structured, peer-driven feedback and personalised tuition
The ticket includes 4 sessions, detailed feedback, and publication in a short story e-book anthology.
Jan 2024:
Wed 10th 6.30-8.30pm
Wed 31st 6.30-8.30pm
Feb 2024:
Wed 21st 6.30-8.30pm
March 2024:
Wed 13th March 6.30-8.30pm
Bursaries: Limited £80 bursaries are available on a first-come, first-served basis. For more information, please email Isabelle Kenyon at commapublicity@yahoo.co.uk.
Course Accessibility: Our courses aim to be accessible to everyone. They are conducted throughout the UK and run regularly. No previous experience is required; all you need is enthusiasm for short story writing. To participate, bring a pen, paper, laptop/computer, and internet access.
Testimonials: Past participants on our Short Story Courses have achieved significant milestones. They have been published by renowned publishers such as Penguin, Canongate Books, and Granta. Their work has been reviewed in reputable publications like The Guardian, The Irish Times, and Lit Hub. Furthermore, their talent has been recognized by awards such as The Brighton Prize.
About the Tutor
Gaynor Jones is a long-time short story lover and award-winning writer whose own work has won or placed in numerous competitions including the Mairtín Crawford Short Story Award, Bath Flash Fiction and the Bridport Prize. Her short fiction has been published widely in print and online including at Aesthetica, Barrelhouse and The Forge, and she was longlisted for the 2022 BBC National Short Story Award. Her novella-in-flash Among These Animals was published in 2020 and shortlisted in the best novella category at the Saboteur Awards.
She is the recipient of a 2020 Northern Writer's Award from New Writing North for her short story collection, Girls Who Get Taken and a 2023 Arts Council DYCP grant for her debut novel, The Wild Ones. She was named Northern Writer of the Year at the 2018 Northern Soul Awards and is represented by Laura Willams at Greene & Heaton.