National Creative Writing Industry Day 2023
Our biggest event of the year is back!
Price: 65.00
Discount Price: 55.00
A limited number of sponsored tickets, and discounted tickets for Manchester residents may be available. Please be aware that these are offered on a first come, first served basis. Contact isabella.barber@commapress.co.uk for more information.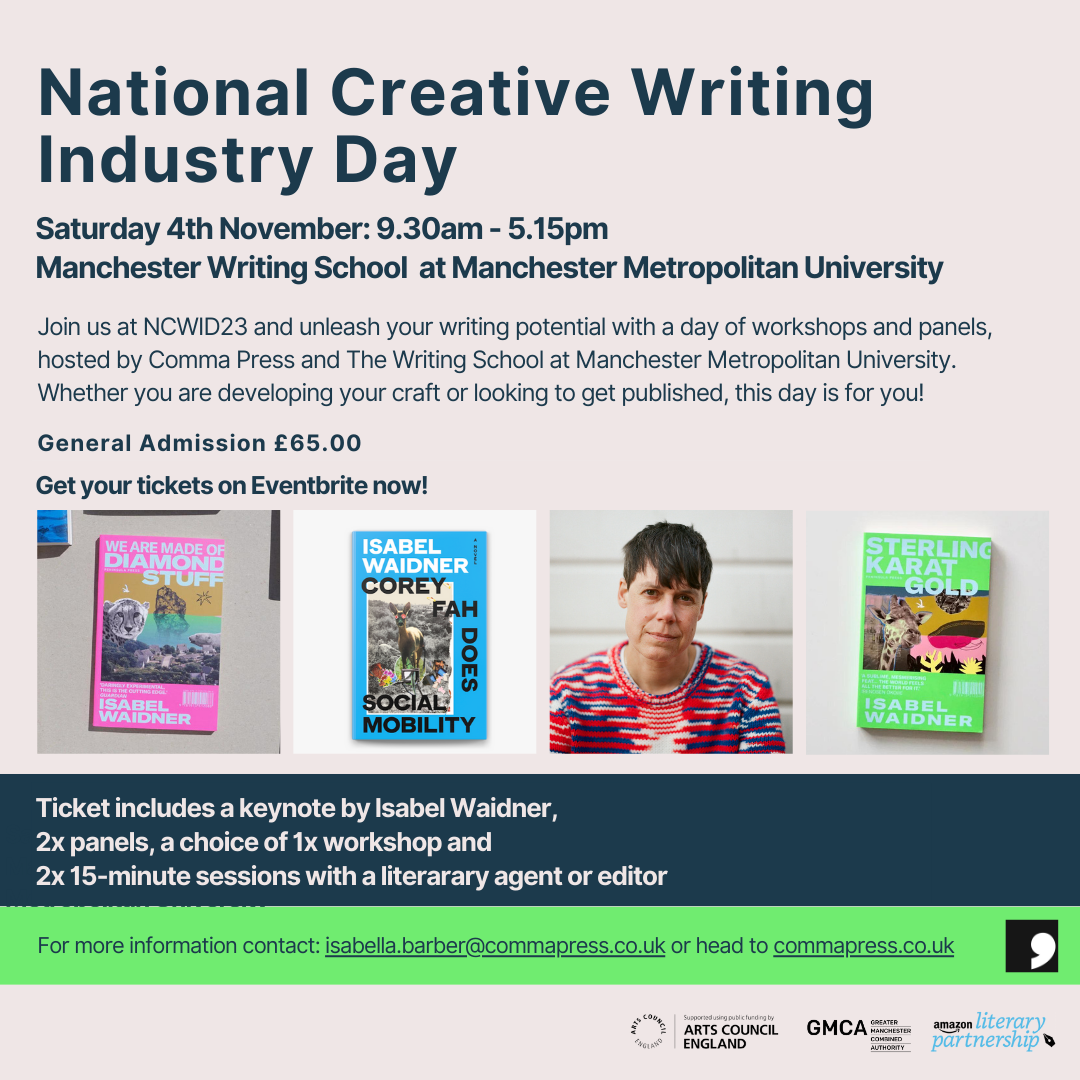 04 November 2023
9:30am
Grosvenor East Building, Manchester Metropolitan University, Cavendish Street, Manchester, M15 6BG
Book Now
About the event
Are you a writer hoping to have your work published? Would you like the opportunity to meet agents and commissioning editors - to learn how the industry works from its experts and sharpen the skills needed to enter it?
Comma Press invites you to attend the annual National Creative Writing Industry Day, in partnership with The Writing School at Manchester Metropolitan University.
Key Information
Date: Saturday 4th November 2023 | Time: 9.30-17:15PM (registration open from 08:45am)
Location: Manchester Writing School, Manchester Metropolitan University
The National Creative Writing Industry Day 2023 is a full day of events for aspiring writers to gain insight into the publishing industry and advice on how to excel in their practice.
This special event is committed to providing participants with a unique introduction to the publishing industry and its professionals.
Featuring:
A keynote speech from Isabel Waidner, Goldsmiths Award-winning author of Sterling Karat Gold, Corey Fah Does Social Mobility and We Are Made of Diamond Stuff and Gaudy Bauble.
Two panel discussions: 'Building your Readership: How to Market Yourself as an Author' and 'Expanding your Practice: Writing Beyond the Book.'
A choice of four workshops (on a first come first served basis) ranging in topics from Writing on Place to Poetry and Performance.
Two one-to-one meetings with literary agents to pitch or seek advice on your work-in-progress.
The opportunity to casually network with fellow writers and publishers both during and after the event.
The day will begin with an introduction and a keynote speech from Isabel Waidner, followed by two panels and a selection of workshops tailored to the needs of those looking to enter the current writing industry. In the afternoon, you can meet one-to-one with literary agents to discuss your works in progress and refine your pitching technique with expert advice from industry professionals.
About the speakers and panellists:
Isabel Waidner is a London-based writer, author of Corey Fah Does Social Mobility,Sterling Karat Gold, We Are Made of Diamond Stuff and Gaudy Bauble. They are the winner of the Goldsmiths Prize 2021 and were shortlisted for the Goldsmiths Prize in 2019, the Orwell Prize for Political Fiction in 2022 and the Republic of Consciousness Prize in 2018, 2020 and 2022. They are a co-founder of the event series Queers Read This at the Institute of Contemporary Arts, and they are an academic in the School of English and Drama at Queen Mary University of London.
The full programme and schedule will be announced soon.
If you have any questions please contact isabella.barber@commapress.co.uk