A Star Studded Release of Tomato Cain And Other Stories
Comma Press is at Fantastic Films Manchester
Price: 45.00
You can purchase a full-day ticket or an all-weekend festival pass via Eventbrite.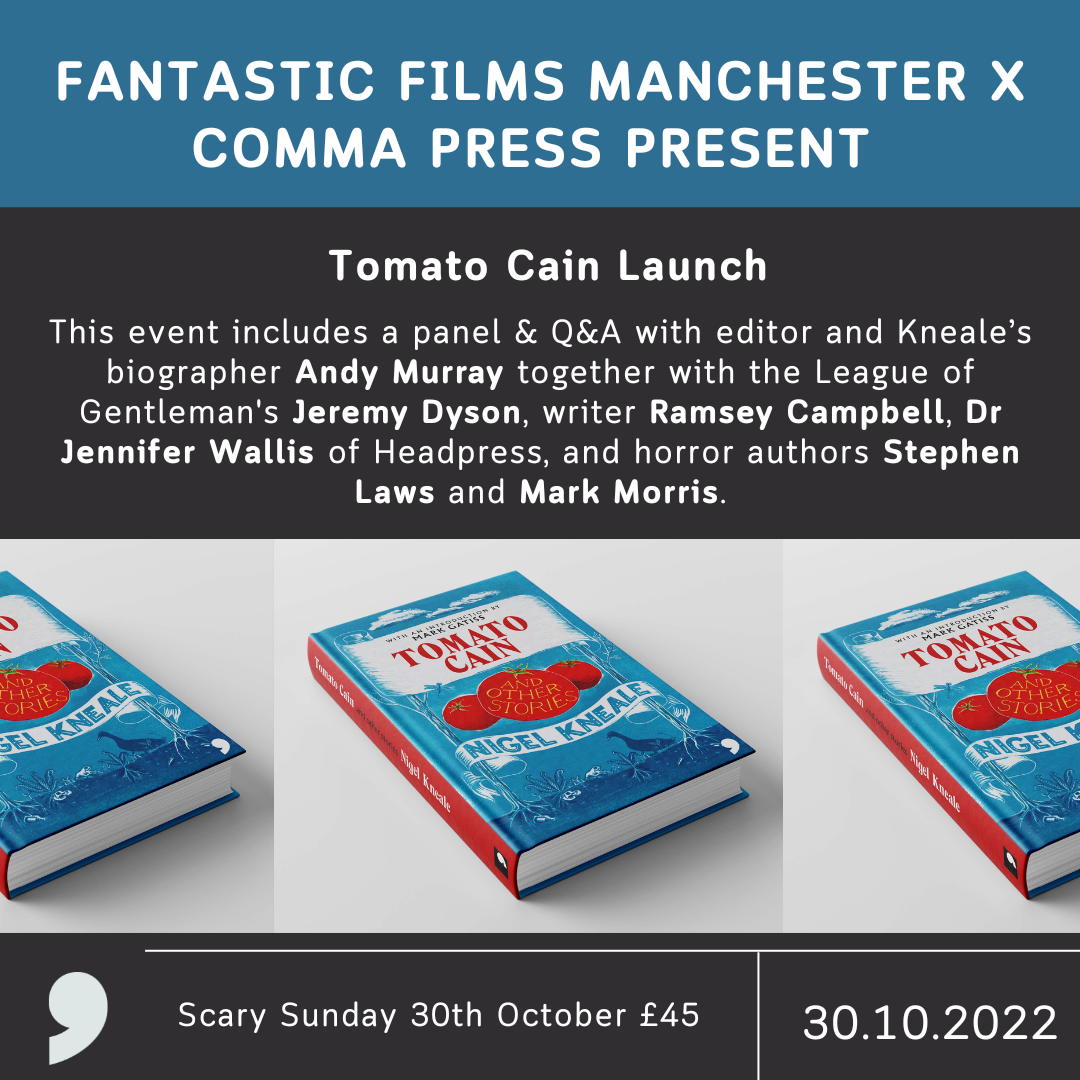 About the event
We are delighted to be teaming up with Fantastic Films Festival Manchester to host the official launch of our new Nigel Kneale collection - TOMATO CAIN AND OTHER STORIES.
One of the twentieth century's most prolific, intriguing and visionary screenwriters, the man who created QUATERMASS was also responsible for Hammer's THE ABOMINABLE SNOWMAN (1957), the BBC's 1954 adaptation of NINETEEN EIGHTY-FOUR starring Peter Cushing, THE YEAR OF THE SEX OLYMPICS, THE STONE TAPE, anthology series BEASTS - and HALLOWEEN III: SEASON OF THE WITCH.
Join us on SUNDAY 30th OCTOBER 2022 from 12 noon to hear about this long awaited re-issue of his short stories, which includes a new foreword by Mark Gatiss and two previously unpublished stories.
This special launch event includes a panel and Q&A with editor and Kneale's biographer Andy Murray together with the League of Gentleman's Jeremy Dyson, famed writer Ramsey Campbell, Dr Jennifer Wallis of Headpress, and horror authors Stephen Laws and Mark Morris. With a special reading by Toby Hadoke.
Signed copies will be available.
This official launch is part of a packed SCARY SUNDAY programme that includes the finals of the DELTA INTERNATIONAL FILM AWARDS and inaugural Norman J . Warren trophy, supernatural horror author Adam Nevill interviewed onstage, Hammer actress Judy Matheson in conversation plus a rare screening of her Spanish horror film THE EXQUISITE CADAVER (1969), the Redgrave sisters in the bonkers 1991 version of WHAT EVER HAPPENED TO BABY JANE? and a rare opportunity to see Disney's THE BLACK HOLE on the big screen, as well as the usual socialising in the bar, festival closing ceremony, and quiz.
Day tickets and full weekend passes are available - with no booking fees payable. Find the festival on Fantastic Films Manchester Eventbrite Page.