All Walls Collapse at Hay Festival
Geetajali Shree and Krisztina Tóth in conversation with Will Forrester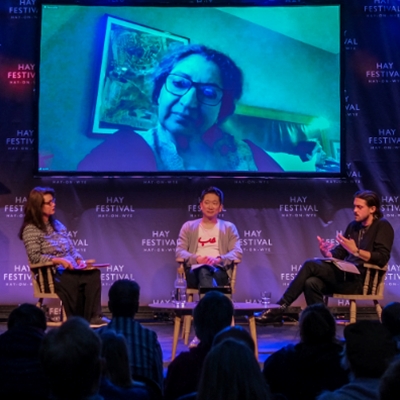 About the event
All Walls Collapse brings together newly commissioned fiction in translation by twelve acclaimed writers from across the world, exploring the walls and borders that have sought to divide communities and nations, and their effects on people's lives and histories.
From the Berlin Wall to the fences of Uyghur internment camps in Xinjiang, the US–Mexico border to the edge of the 'Fortress of Europe', and the barbed wire of the Korean Demilitarised Zone to the fences erected to hide Rio's favelas before the 2016 Olympics, this groundbreaking collection of short stories examines our relationship to walls, both real and perceived.
Krisztina Tóth is a highly acclaimed Hungarian poet and Geetajali Shree is a Hindi author longlisted for the International Booker Prize 2022.
The event is available to watch back online on Hay Player: https://www.hayfestival.com/p-18881-geetanjali-shree-krisztina-toth-and-anton-hur-talk-to-will-forrester.aspx?skinid=16
Krisztina Tóth
Krisztina Tóth is one of Hungary's most highly acclaimed poets and writers. She has published many volumes of poetry, several collections of short stories and children's books, and a novel, Aquarium, which was shortlisted for the German Internationaler Literaturpreis in 2015. Her short story collection Pixel, translated by Owen Good, was published in English by Seagull Books.
Geetanjali Shree
Geetanjali Shree was born in Mainpuri, India, in 1957. She is the author of three novels and several story collections, and her work has been translated into English, French, German, Serbian and Korean. Her work has received a number of awards, including the 2022 International Booker Prize for Tomb of Sand (Tilted Axis, 2021), translated by Daisy Rockwell. Shree currently lives in New Dehli.
Will Forrester
Will Forrester is Translation and International Manager at English PEN. He has worked with Commonwealth Writers, in the visual arts in Kuala Lumpur, and with Untold on My Pen Is the Wing of a Bird: New Fiction by Afghan Women. He is an editor at Review 31, and his writing has appeared in The Guardian, Los Angeles Review of Books, London Magazine, and elsewhere.