The Dressing-Up Box
Format: Hardback
Book type: Short Story Collection
ISBN-13: 9781912697212
Published: 19 Sep 2019
Sale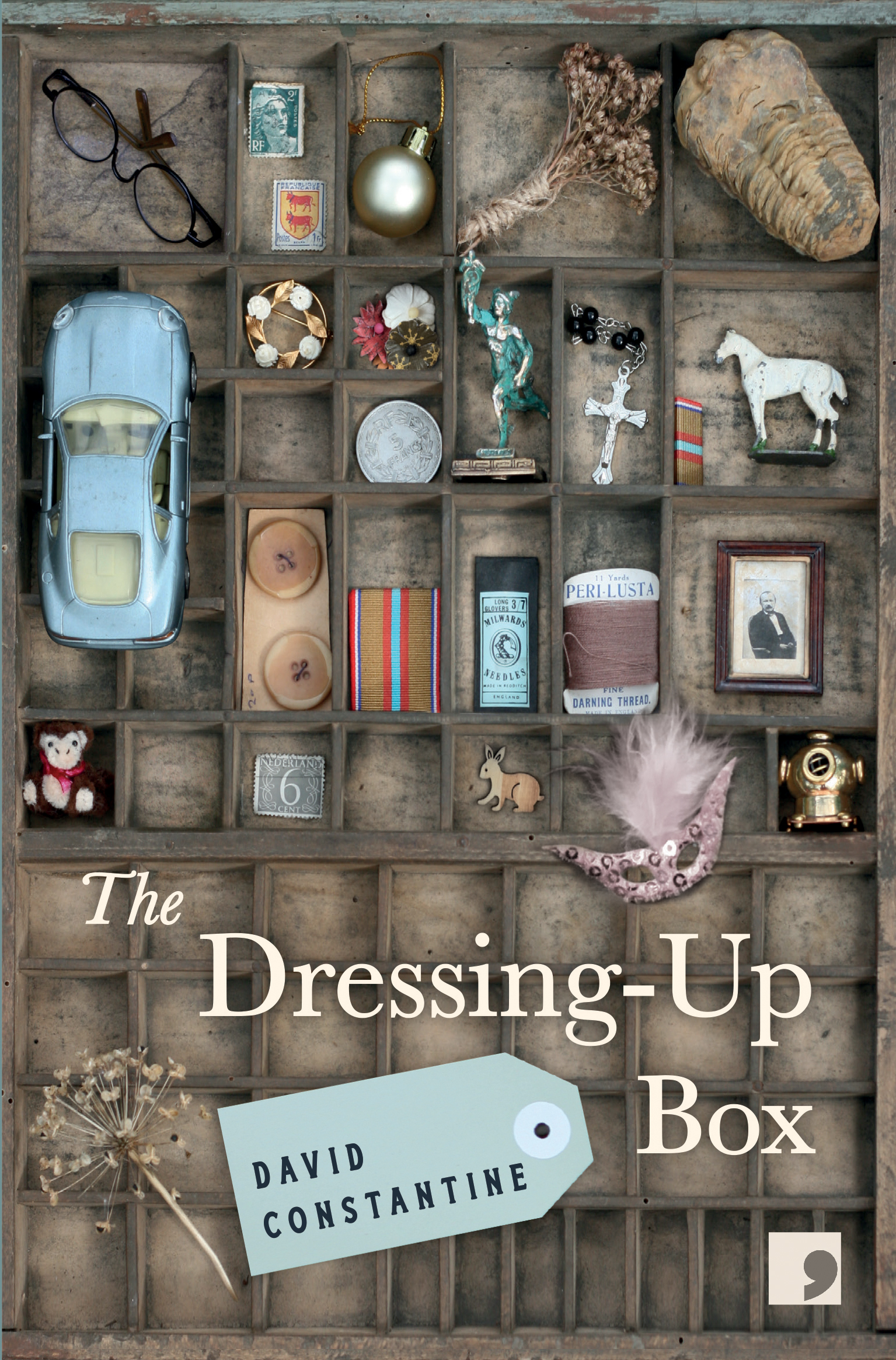 View Our Books
About
Against the backdrop of war, a group of children barricade themselves in an abandoned townhouse, cherishing what's left of their innocence with the help of a dressing-up box...
A deep-sea diver takes to being suspended for hours at a time on the end of a line not long enough to reach the seabed...
An aging widower moves into the shed at the end of his garden to plan out his 'endgame' surrounded by a lifetime's worth of hoarded curiosities...
The characters in David Constantine's fifth collection are all in pursuit of sanctuary; the violence and mendacity of the outside world presses in from all sides – be it the ritualised brutality suffered by children at a Catholic orphanage, or the harrowing videos shared among refugees of an atrocity 'back home'. In each case, the characters withdraw into themselves, sometimes abandoning language altogether, until something breaks and they can retreat no further. In Constantine's luminous prose, these stories capture such moments in all their clarity; moments when an entire life seems to hang in the balance, the past's betrayals exposed, its ghosts dragged out into the daylight; moments in which the possibility of defiance and redemption is everything.
Please note: this is the hardback edition.
Praise for David Constantine:
'Perhaps the finest of contemporary writers in this form.' – The Reader
'Constantine's writing is rare today...unafraid to be rich and allusive and unashamedly moving.' – The Independent
Press
One of The Guardian Bookshop's 'Ones to watch' September 2019
Praise for The Dressing-Up Box:
Listen to David Constantine on BBC Radio 3's 'Let Me Take You There' series.
'Dramatic, daring and dark... There's enormous tension to the stories, but there is often a small but powerful moment of hope.' Hear The Dressing-Up Box reviewed on BBC Radio 4's Saturday Review.
'This fifth book of superb short fiction confirms an extraordinary talent' - The Times
'It will reward the effort' - The Irish Times
'Inventive... incredibly moving' - The Daily Mail

'Subtlety marks every tale in this intelligent, unshowy and often moving collection.' - Ian Sansom, The Guardian
'The Dressing-Up Box is one of the most accomplished short story collections in years.' - STORGY
One of editor Ross Jefferey's 'Best Books Read in 2019': '...a gem of a book, for me it had everything - and a little bit more...'
'The Dressing-Up Box is a wonderfully dark collection' - Literary Flits
'The Dressing-Up Box does the deepest work of fiction - it tells us strange, hard, beautiful truths for our time. Constantine offers a quietly furious and moving collection packed with undefended children and lost adults, personalities grown eccentric under stress and raging for mercy. Nightmares shift, blood flows in rivers and humanity responds with strange mercy, humour and a desperate appetite for love.' - A. L. Kennedy
'Profoundly a book for our time, full of despair, sorrow, terror, hope and tenderness, The Dressing-Up Box confirms what Constantine's readers have suspected for years: that he may be the greatest living English short story writer.' - Gregory Norminton
'A brilliant collection.' - Ian McMillan
'Precise in their intensity, unsettling, suddenly and unexpectedly luminous, these stories will stay with you and unfurl within you.' - Lucy Caldwell
'A beautifully crafted tender, evocative collection. Full of wisdom and light.' - Irenosen Okojie
'David Constantine's fifth collection of stories is a fierce and tender meditation on our struggle to live - a lyrical and plainspoken portrait of humanity at its pernicious worst and its suffering, creative, resilient best.' - Carys Davies
'David Constantine is fearless. His work is dark and daring while, at turns, also humorous and tender. This collection cements his position as one of the UK's finest short story writers.' - Paul McVeigh
'One of the short-story writers who matter, poetic, passionate and humane.' - Maggie Gee
'Constantine's writing is addictive. Every sentence is another shot of beauty, of mystery and mastery. How does he do it? You can read his stories over and over - you will always return for more. This fifth collection proves, yet again, he is a master of the short story.' - Lara Pawson
'In the title story of David Constantine's new collection, the Dressing-Up Box is a seemingly bottomless repository of costumes that allows children in a dystopian future to re-enact less turbulent times. Across the volume, characters are caughts between the uncertain future and the shadow of the past. Constantine's rolling sentences create their own world that catches the imagination.' - David Hebblethwaite
'A brilliant and hugely varied collection of dystopian, Gothic, realist and magic-realist stories by David Constantine - violence, horror and trauma, shot through with the optimism of children and childhood rebellion. Loved it.' - Jonathan Taylor
'Unlike anything I've ever read! It's deliriously beautiful!' - Patty, Waterstones Witney
'Some of the stories feel a little like myths being retold, or new takes on old legends, but perhaps, in dark times. David Constantine is suggesting that we might need to look backwards in order to move forwards.' - Sarah-Clare Conlon, Creative Tourist
'The worlds he creates are heterotopic, yet within each one he generates skilfully, often with minimal brushstrokes, the sense of a whole life, as in the short stories of Raymond Carver.' - Livi Michael, The Manchester Review
Also by David Constantine:
More Short Story Collections like The Dressing-Up Box (Hardback):