Thought X
Fictions and Hypotheticals
Edited by Ra Page & Prof Rob Appleby
Featuring: Sandra Alland, Annie Clarkson, Marie Louise Cookson, Claire Dean, Zoe Gilbert, Andy Hedgecock, Robin Ince, Annie Kirby, Anneliese Mackintosh, Adam Marek, Adam Roberts, Sarah Schofield, Ian Watson & Margaret Wilkinson
Format: Paperback
Book type: Anthology
ISBN-13: 9781905583607
Published: 20 Apr 2017
Sale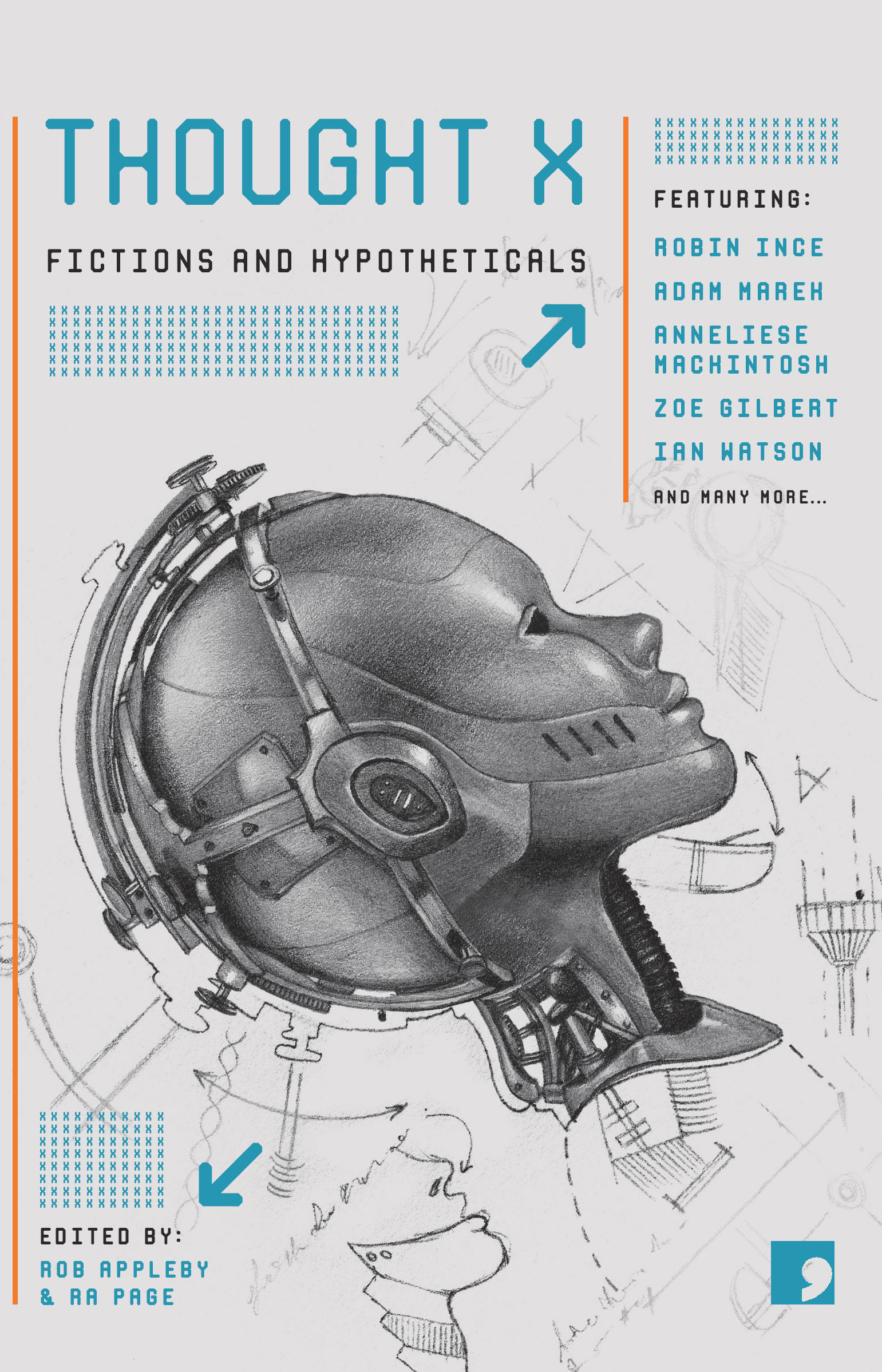 View Our Books
About
Science is always telling stories. Whether in the creation myths of evolution or the Big Bang, or in the eureka moments of science history, narrative – just as much as metaphor – is a key tool in the scientist's surprisingly literary toolkit. Perhaps the most interesting use of story is the thought experiment, the intuition pump, that draws on the most instinctive parts of the imagination to crack otherwise perplexing problems.
From Newton's Bucket, to Maxwell's Demon, from Einstein's Lift to Schrödinger's Cat – all are examples of 'fiction' being used at the highest level, not just to explain, but to deduce, to prove. In this unique anthology, authors have collaborated with leading scientists, to bounce literary, human narratives against purely theoretical ones, alloying together real stories with abstract ones, to produce truly extraordinary results.
Featuring leading scientists acting as consultants on the stories, and writing scientific afterwords, bringing the theory featured in the stories to life, including Prof. Sarah Bridle (Jodrell Bank), Prof. Jonathan Wolff and Prof. Frank Jackson (the inventor of the 'Mary's Room' thought experiment).
Full list of thought experiments: The Twin Paradox, The Grandfather Paradox, Maxwell's Demon, Laplace's Demon, Mary's Room, The Chinese Room, Schrödinger's Cat, Galileo's Boat, The Infinite Monkey Typing Pool, Einstein in a LIft, Einstein Chasing a Beam of Light, Newton's Bucket, Olber's Paradox.
Also featuring afterwords by Professors Stewart Boogert, Sarah Bridle, Seth Bullock, Steven French, Roman Frigg, Frank Jackson, Michela Massimi, Tara Shears, Jonathan Wolff, and Doctors Ana Jofre and Rob Appleby.
Listen to the audiobook on Audible.
Press
Starburst Magazine gave Thought X 9/10 in their preview of the book

'Thought X is a good entry in the long tradition of basing fiction on scientific fact. Here we have a wide range of thought experiments and paradoxes, with stories questioning, stretching, and interpreting them, then after-words explaining the scientific basis. The lucky reader thus gets the best of both worlds.' - Susan Stepney, A Memory Less Ephemeral Blog. Read the full review with excellent wider reading suggestions here.

David's Book World called Annie Kirby's story 'Powerful', and said 'It's all told in an enjoyably theatrical style, and illustrates what a pleasure it is to think around with these thought experiments' of Robin Ince's story. Read the full review here.

Brian Clegg of Popular Science gave Thought X five stars, saying 'There are so many delights here - often taking totally unexpected routes to explore a well-known thought experiment... I can't recommend this collection highly enough: the stories are all superbly written'. Read the full review here.

'Thought X is based upon a standout idea – and is executed to near-perfection.' - Bookmunch. Read the full review here.
'This makes for a lively mix of styles and subject matter. Comma are to be applauded for encouraging fiction writers to write (and readers to read) about such unusual topics.' - Pippa Goldschmidt, Shoreline of Infinity
'This is a book that combines scientific thought and theory with expertly crafted prose in an eclectic collection of genres and styles [...] Thought X is a compelling and provocative read.'
- Holly Powis, Disclaimer Magazine. Read the full review here.

Read Sarah Schofield's story 'The Tiniest Atom' and the afterword on Laplace's Demon by Dr Rob Appleby on BBC Focus
Listen to Tara Shears talk about Special Relativity and the Twin Paradox at the Bluecoat in Liverpool
https://soundcloud.com/macguffin-994680930/thought-x-tara-shears-on-special-relativity

Listen to Margaret Wilkinson read her story, 'If He Wakes', at the Newcastle Centre for Literary Arts, only on MacGuffin:
https://macguffin.io/margaret-wilkinson/if-he-wakes/read/

Listen to Andy Hedgecock read his story 'XOR', only on MacGuffin:
https://macguffin.io/andy-hedgecock-2/xor/read/

PART 1: Watch Adam Roberts read his story 'Keep It Dark' at Royal Holloway University, as part of an event with fellow contributor and Holloway Professor, Stewart Boogert:
https://www.youtube.com/watch?v=9Vap417aUTg
PART 2: Watch Adam Roberts and Stewart Boogert discuss science, fiction, and how both disciplines have influenced the other in weird and wonderful ways: https://youtu.be/HSA4Nw2hazE

From Part 1 of the Project:



Initially this project grew out of a out of a commission of five stories from the following writers:
Sara Maitland (2 stories) - working with Dr Rob Appleby and Professor Tara Shears
Sara Schofield - working with Dr Rob Appleby
Marie Louise Cookson - working with Dr Rob Appleby
Claire Dean - working with Prof Roman Frigg
The first two stories, by Sara Maitland, are titled 'The Beautiful Equation' (dealing with anti-matter and Paul Dirac's formulation of the Schrödinger equation) and 'Dark Humour' (about the four fundamental forces) have been included in Sara's new collection Moss Witch. Follow the link for more.
The other three stories, 'The Tiniest Atom', 'Bright Boy' and 'People Watching' - which explore the thought experiments 'Laplace's Demon', 'Maxwell's Demon' and 'Gallileo's Boat', respectively - are available to read online below, along with their afterwords.

Read Bright Boy by Marie Louise Cookson.
Afterword by Dr Rob Appleby here.
Read People Watching by Claire Dean.
Afterword by Prof Roman Frigg here.
Read The Tiniest Atom by Sarah Schofield.
Afterword by Dr Rob Appleby here.
In the meantime, here are some clips of three of the above mentioned stories being read and discussed, on Radio Four's 'Open Book' with Mariella Frostrup, at Lancaster Litfest, and at Manchester's MadLab.
1. LISTEN TO: Prof. Tara Shears and Sara Maitland discuss anti-matter and the story 'The Beautiful Equation' with Mariella Frostrup on Radio Four's Open Book.
Click here then scroll to 10mins in.
2. WATCH: Sarah Schofield, Marie-Louise Cookson and Dr Rob Appleby discuss Maxwell and Laplace's Demon, and the stories 'The Tiniest Atom' and 'Bright Boy' at MadLab.
3. Watch Dr. Rob Appleby and Sara Maitland discuss the four fundamental forces, and the story 'Dark Humour' at Lancaster Litfest.
(apologies for the poor sound). See it here.
More Anthologies like Thought X: