The New Uncanny
Tales of Unease
Edited by Sarah Eyre & Ra Page
Featuring: A.S. Byatt, Ramsey Campbell, Frank Cottrell-Boyce, Ian Duhig, Matthew Holness, Etgar Keret, Hanif Kureishi, Alison MacLeod, Sara Maitland, Adam Marek, Christopher Priest, Jane Rogers, Nicholas Royle & Gerard Woodward
Format: Paperback
Book type: Anthology
ISBN-13: 9781905583188
Published: 11 Jul 2018
Sale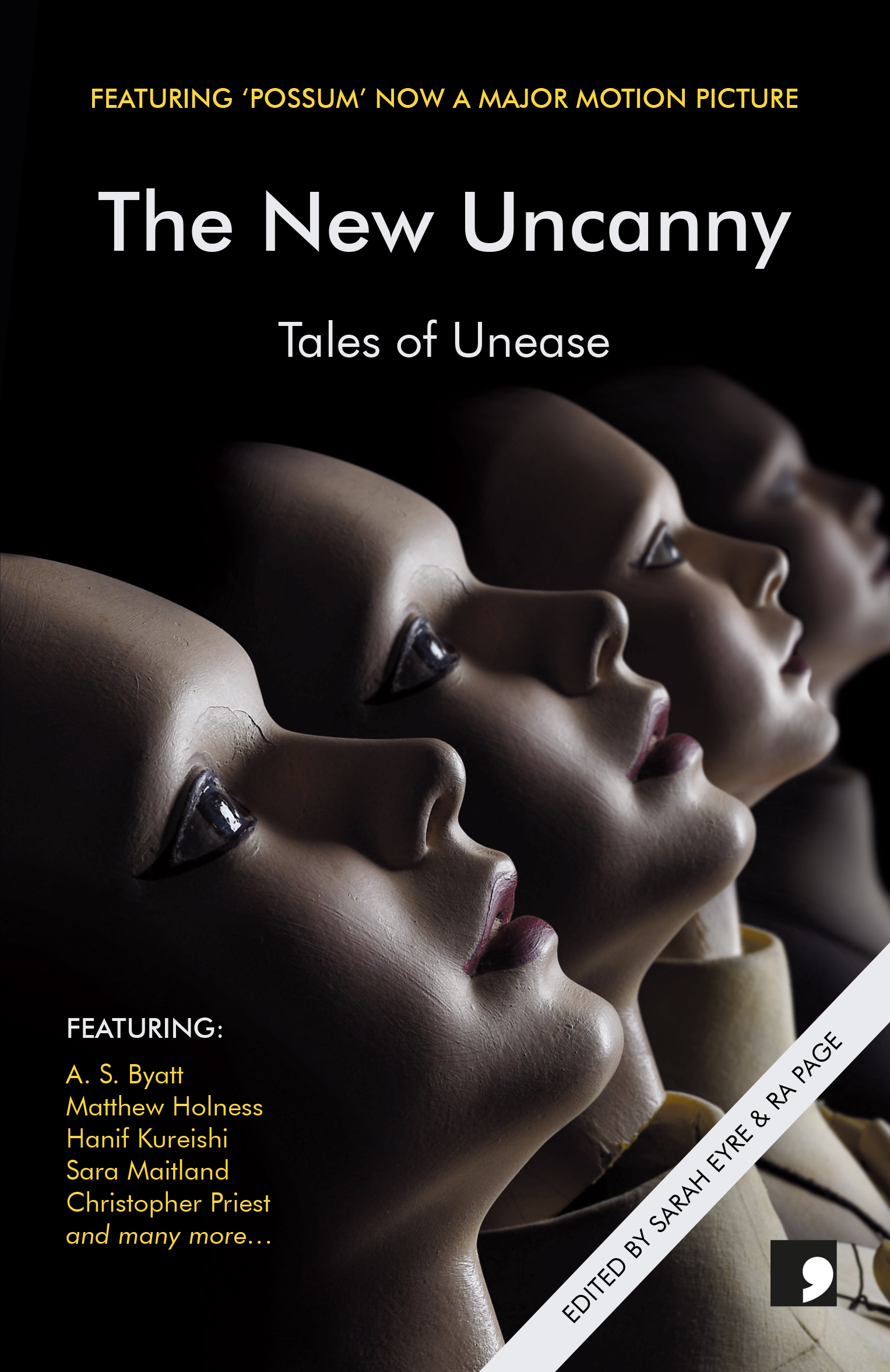 View Our Books
About
WINNER OF THE SHIRLEY JACKSON AWARD 2008 ('Best Anthology')
FEATURES 'POSSUM' by MATTHEW HOLNESS - NOW A MAJOR MOTION PICTURE
First published in 2008, reissued in 2018.
In 1919 Sigmund Freud published an essay that delved deep into the tradition of horror writing and claimed to understand one of its darkest tricks. Like a mad scientist, he performed literary vivisection on a still-breathing body of work, exploring its inner anatomy, and pulling out mysterious organs for classification. His aim: to present to the world a complete theory of 'das unheimliche', the uncanny.
In the spirit of this great experiment, 14 leading authors have here been challenged to write fresh fictional interpretations of what the uncanny might mean in the 21st century, to update Freud's famous checklist of what gives us the creeps, and to give the hulking canon of uncanny fiction a shot in the arm, a shock to the neck-bolts...
See Dinesh Allirajah Prize for Short Fiction 2024 event HERE
Press
'This collection is so good that it has quite literally jumped into my top books I've ever read, each short story is wonderfully crafted and masterfully executed, each is unique and showcases the brilliance of each writer. It has been a long while since I've read an anthology (and here at STORGY we read a lot of anthologies and collections) and could recount to you each and every story just from the title – that is the heart stopping power that resides in the New Uncanny.' - STORGY

'Comma Press are, as ever, ahead of the curve with The New Uncanny. This is a terrifically enjoyable collection of stories, and an important one – get yourself a copy before everyone's talking about it.' - Independent Literary Fiction Blog

'It's not too great a stretch to see Comma as the literary equivalent of Factory Records.' - The Herald

'Delightful and disturbing' - The Independent on Sunday

'A masterclass in understated creepiness... a deliciously macabre collection that the old Austrian might well have enjoyed.' - Book of the Week, Time Out

'If we need the uncanny – and I suspect we do – then we also need it updating... laudable.' - Book of the Week, The Independent


POSSUM:
Available on Blu-ray and DVD now!
Shortlisted for a CAMEO Award 2020 in the Book to Film category.
POSSUM film trailer brought to you exclusively by EMPIRE Magazine.
Read Empire's 4* review: "A disturbing, curiously beautiful British horror exercise."
One of TimeOut London's '15 must-see movies to catch this Autumn'
'Possum excels in ways some horror doesn't. It strikes the nerve between horror and emotion, between wanting to cry and wanting to scream. Sean Harris' face is like a work of puppetry itself, a frown permanently etched or frozen in place, a constant inability to make eye contact. His trauma lives on his face.' - Starburst 10/10
'Possum is a menacing journey through a troubled mind. It's a haunting psychological horror film that takes it's time but delivers sheer terror in abundance.' - Screen Mayhem's 5* review
'Shiver-inducing, claustrophobic, hauntingly brilliant nightmare fuel, powered by an engagingly disturbing central performance from Sean Harris. It must be experienced in all its horrifying glory, but beware its dark delights.' - Wicked Horror's 9/10 review
'If you enjoy hints and implications and suggestions, and a much quieter breed of horror, then Possum could well be for you [...] This one is well worthy of a 9/10 and rates as one of the best horror films I've seen in 2018.' - Ginger Nuts of Horror
Awarded 'Scariest Monster' at this year's Fright Fest 2018 by Total Film
'Not only is Holness' debut also one of the most unique and creepiest "creature" features in years, but one of the best British horror films ever made: a raw, surreal gem that burns slow before maturing into a heart-raking horror and marks him out as a strong contender for a future genre master.' - Scream Magazine
'The cult comedy's creator has swapped horror parody for the real thing. And the results are seriously haunting' iNews
'So the lemons have turned black and mouldy and Holness has produced a tar-like morass-of-a-movie in social realist puppet horror, Possum... It's a bold work, one which operates by its own twisted internal logic.' Little White Lies
More Anthologies like The New Uncanny: