Beta-Life
Stories from an A-Life Future
Edited by Ra Page & Martyn Amos
Featuring: Dinesh Allirajah, Martyn Bedford, Lucy Caldwell, Frank Cottrell-Boyce, Claire Dean, Stuart Evers, Julian Gough, Andy Hedgecock, Annie Kirby, Zoe Lambert, Toby Litt, Adam Marek, Sean O'Brien, K.J. Orr, Joanna Quinn, Adam Roberts, Sarah Schofield, Margaret Wilkinson & Robin Yassin-Kassab
Format: Paperback
Book type: Anthology
ISBN-13: 9781905583652
Published: 08 Jan 2015
Sale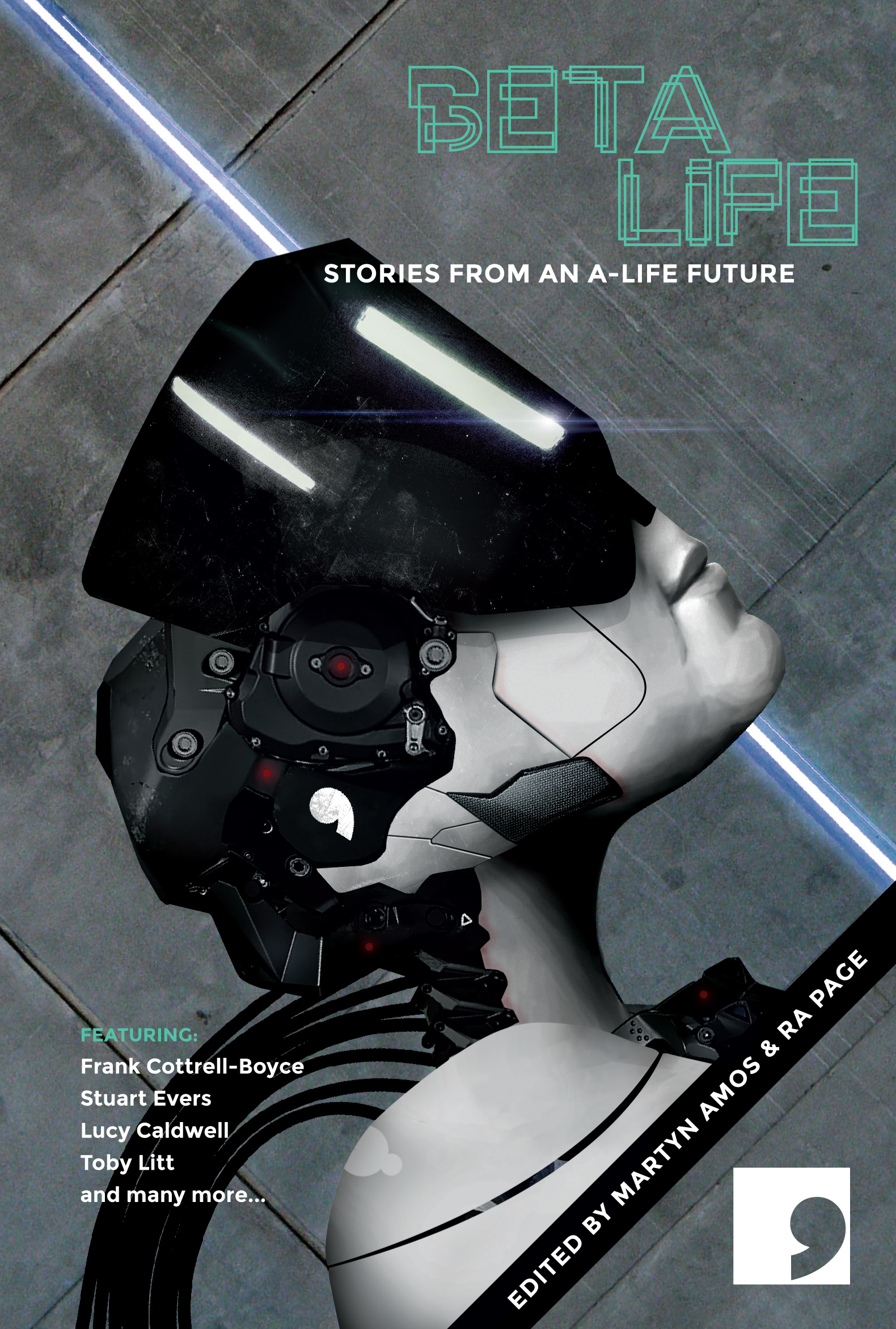 View Our Books
About
Computers are changing. Soon the silicon chip will seem like a clunky antique amid the bounty of more exotic processes on offer.
Robots are changing too; material evolution and swarm intelligence are creating a new generation of devices that will diverge and disperse into a balanced ecosystem of humans and 'robjects' (robotic objects).
Somewhere in between, we humans will have to change also… in the way we interact with technology, the roles we adopt in an increasingly 'intelligent' environment, and how we interface with each other. The driving motors behind many of these changes will be artificial life (A-Life) and unconventional computing. How exactly they will impact on our world is still an open question. But in the spirit of collective intelligence, this anthology brings together 38 scientists and authors, working in pairs, to imagine what life (and A-Life) will look like in the year 2070. Every kind of technology is imagined: from lie-detection glasses to military swarmbots, brain-interfacing implants to synthetically 'grown' skyscrapers, revolution-inciting computer games to synthetically engineered haute cuisine. All artificial life is here.
Featuring scientific contributions from: Martyn Amos, J. Mark Bishop, Seth Bullock, James Dyke, Christian Jantzen, Francesco Mondada, James D. O'Shea, Andrew Philippides, Lenka Pitonakova, Steen Rasmussen, Thomas S. Ray, Micah Rosenkind, James Snowdon, Susan Stepney, Germán Terrazas, Andrew Vardy & Alan Winfield.
Supported by TRUCE (Training and Research in Unconventional Computation in Europe).
Find the audiobook exclusively on Audible, as featured in The Radio Times 'best audiobooks to download' (Feb 2019).
See Short Story Course with Karline Smith, Manchester event HERE
Press
Listen to Prof Martyn Amos and writer Sarah Schofield discuss the project with Mariella Frostrup on BBC Radio 4's Open Book.

'A timely... strong anthology... offers a crash course in futurology' - The Guardian.

'Science fiction can offer a privileged look into the future' - Totally Dublin
'Amos and Page's anthology will appeal to any fans of futurism' - Publishers Weekly

Contributor Steen Rasmussen on the dangers of private corporations owning our data for the Daily Mail online
Beta-Life contributor Professor Susan Stepney explores the real science of science fiction in The Guardian Blog.
Plus here's a bit that didn't make the G-Blog cut: A Memory Less Ephemeral.

Read scientist Andy Hedgecock's article on AI and swarm technology in The Morning Star
More Anthologies like Beta-Life: